Admissions
Applications to join The Sixth Form at Northampton School for Girls in September 2024 are NOW OPEN.
CURRENT NSG STUDENTS:
Please apply via the login details sent to your school email address and sign in with your login details on the right-hand side of the screen as an 'existing user' - this will save you time completing the application.
STUDENTS CURRENTLY ATTENDING OTHER SCHOOLS:
Please apply by clicking on the 'Apply Now' button below and click 'New Application' on the left once on our Admissions log-in page.

At The Sixth Form, we consider every application on its merits. We want to ensure that any student entering our Sixth Form has a full and balanced programme and is capable of achieving success in their chosen subjects.
General entry requirements:
Students must achieve:
Grade 4 in GCSE English (either Language or Literature. Please note that if a student does not have a grade 4 in English Language, they will be expected to retake the exam in Year 12)

Grade 4 in GCSE Maths*
In all cases, the requirements outlined below are a minimum for general entry/pathway entry and subject-specific criteria are required in addition (see our Admissions Policy below for details).
*Students without grade 4 in both English and Maths may be admitted onto Pathway 3 only, subject to them retaking GCSE English and Maths in Year 12.
Our three pathways enable students to be placed onto programmes of study that allow them to make maximum progress. In addition, students' best 8 GCSE grades will be used to denote which pathway is available to them.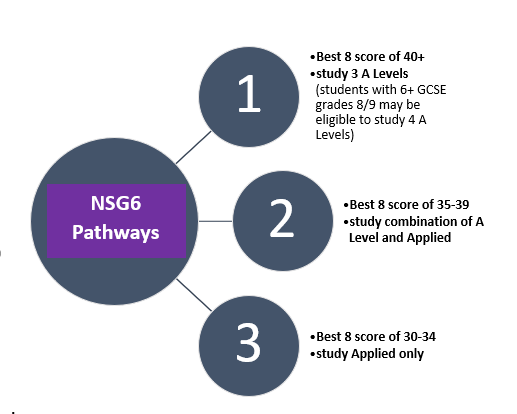 Please see our Admissions Policy below for an explanation of how to calculate the best 8 score.
Our induction process may include a guidance meeting with a senior member of staff so that prospective students are fully aware and prepared for the challenge of Sixth Form study. This includes advice on the pathways open to students.
It is also important that students have demonstrated an appropriate attitude to study and possess the capability of working independently and meeting subject requirements. In order to ensure that students 'hit the ground running' in September, they are expected to complete the transition materials for their chosen subjects, made available via our website.
If you are considering applying to our Sixth Form for September 2024, more detailed course information is available here.
Timeline for Admissions 2024
Please find below our planned timeline for admissions this year.