School President
Hello, my name is Ellie and I am NSG's 2020 to 2021 School President. I am delighted to have been given this opportunity and am excited to take advantage of this to make a difference in the school community during the year ahead.
My time at NSG started when I was in year 7 where I joined the school as a nervous and shy year 7 but over the course of my time at the school, I believe that I have grown into a more confident year 13. NSG has encouraged this growth in many ways including the vast array of extracurricular activities that the school has to offer and the many trips that I have had the opportunity to attend. These trips have taken me across the UK as well as across Europe. The extracurricular activities at NSG are endless, from sports and dance to the Eco Council and debate clubs; there really is something for everyone. NSG encourages personal growth in so many ways.
The jump from year 6 to year 7 is a daunting and unnerving experience however NSG does everything it can to ease this transition. One way that the school does this is through the Big Sister programme. Big Sisters are attached to every tutor group and help ensure that everyone adjusts to their new school. Younger students often find it easier to approach their big sister about questions they do not want to worry their teachers with.
Another important transition comes at the end of year 11 when decisions have to be made about future education or training. This can be intimidating but NSG has a supportive programme which presents the options and responds to questions students might have.
NSG provides a nurturing and encouraging environment that facilitates the development of all aspects of its students. Academic achievement is obviously very important but NSG also knows the value of other qualities ensuring the development of the whole person. Throughout your time at NSG there are multiple opportunities for this development that can be harnessed including opportunities to become the form captain or sports captain as well as an eco-officer. This helps the students to develop their own voice as well as do their best in the position they have been given enabling them to leave NSG as mature, well rounded and able to fulfil any career path that they should choose.
Sixth formers at NSG are privileged in the quality of teaching we receive. The expertise and support of our teachers are second to none. We are treated like young adults provided with freedom and opportunities to make the most of our academic ability and other talents. I am currently studying Biology, Chemistry and Psychology and I am looking forward to the future and university. The challenge of A levels is great but the opportunity to succeed is there for the taking. There is always someone to talk to and the environment that NSG creates allows the students to feel comfortable and focus on their studies.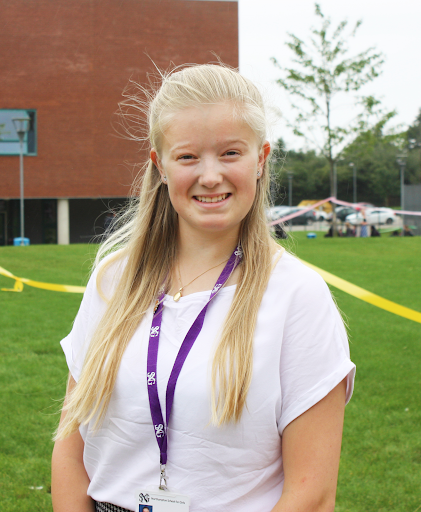 I would like to thank NSG for an amazing school experience and I look forward to meeting the new students who choose NSG.
Ellie Cox
NSG School President